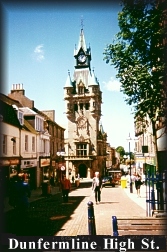 ---
The Historic City of Dunfermline, just over the famous Forth Rail and Road Bridges from Edinburgh.
It is situated in the Old Kingdom of Fife.

The City of Dunfermline in bygone years (1010) ... our Dunfermline Palace was residence of the Kings and Queens of Scotland.

History permeates every step you take, some say, that if ever there was a need, our Heroic defenders of the past, would come back and defend us, it certainly feels that way, as you wander entranced through the many historic Dunfermline sites.

Dunfermline and West Fife spans over an area of approximately 35 square miles. An ethnically diverse city rich in historical heritage, natural beauty and commercial accomplishment, Dunfermline is home to nearly 150,000 people.

An exciting cosmopolitan atmosphere permeates Dunfermline. Its unique downtown area is surrounded by dramatic old world architecture, the local business traders are extremely people friendly, that combined with sufficient nationally-recognized Hotel accommodation, is well complimented with local indoor and oudoor shopping malls.

For those that require more leisurely retreats, our local leisure centres, combined with our lovely green and tranquil parks and glens, all go to make Dunfermline an exciting relaxing place for visitors and residents to shop and play.

Community spirit is strong as residents reflect a tremendous interest in non-profit causes, city improvements and educational issues.

Neighborhoods are clean, business districts are built for your convenience and social amenities are abundant.

A superior quality of life in Dunfermline and West Fife is the result of our area government which focuses on safety, neighborhoods, education and community involvement, why not give us a visit ... smile and say ... "Hi!" to the locals, be assured you will be made very Welcome.


Copyright © 1999,2000,2003,2004,2005,2006,2007,2008,2009 WhiteSoft Software
Last modified: March 7, 2007
UK Link Exchange