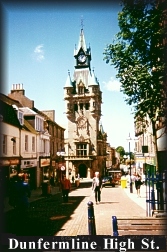 ---
The main purpose of this page is to promote the "Old Kingdom of Fife," Scotland. and the City of Dunfermline and West Fife in particular. Dunfermline is highly recommended as the starting place for those that wish to explore the beauty and history of the West of Fife area.

Visitors and residents may find further detailed information on Dunfermline contained in a book, published by Breedon Books in 2004.

Dunfermline The Post War Years
by Bert McEwan.
ISBN:1859834078

This author Bert McEwan is a Heritage Guide in the Historic City of Dunfermline, he has done much research on the subject of Dunfermline post war years.
This book is a creation of a field of dreams for locals and expatriates world wide.
The many photo's and scenes, will delight those that are interested in the way of life as it was in Dunfermline Post War Years.
A wealth of Dunfermline memories are located between the covers of this book. Just to mention a few that stir this webmasters memory ...
Long gone Gala days ...the Ice ring on Halbeath road ... the Co-op ... the Parks ... the Shows ...the Bands ... the Theatres ...the Hospitals ...Woolworths now gone ... the School Parades ... the Glen ... need I say more ...
This is one "webmaster" who appreciates Bert McEwan as a master of research of How it was ... and How it is ... in the "Auld toon" Dunfermline in those bygone days ...Brilliantly done ...
Thanks Bert for a job well done.
Copyright © 1999,2000,2003,2004,2005,2006,2007,2008,2009 WhiteSoft Software
Last modified: March 7, 2007
UK Link Exchange